Green Workplace Challenge Winners Prominently Featured in Media
October 24, 2012
Last week evolveEA accepted a first-place award for leading the small business category in the Pittsburgh Green Workplace Challenge. With a total 221 points, we are in the top three competitors for the entire challenge, which included large, medium, and small sized offices and an additional category for observers. As evolve became a carbon-neutral workplace in 2011, we had already made most of our energy-saving improvements before the competition began and were ineligible for any of the points in the challenge's energy improvement category. Our points came from the "other" category, which included implementing sustainable workplace policies, holding green office events, incentivizing green employee behavior like biking to work, composting and recycling as much of our waste as possible, and similar actions.
The award reception was covered by The Pittsburgh Tribune Review, Pittsburgh Business Times, and several blogs. Check out the following headline and image from the Pittsburgh Post-Gazette:
Green Workplace Challenge: Bayer, Eaton and Evolve come out on top
Saving costs and energy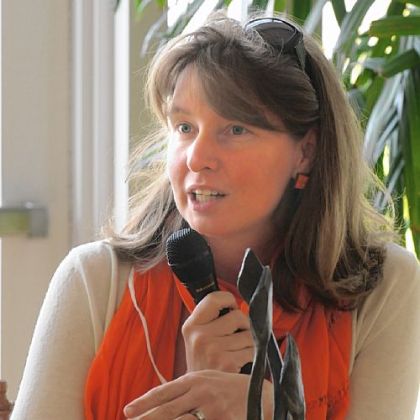 Photo: Darrell Sapp/Post-Gazette
Winners of the Green Workplace Challenge: Christine Mondor, of evolve Environment::Architecture, won the Small Business Category.
Read the article By Erich Schwartzel / Pittsburgh Post-Gazette, October 19, 2012